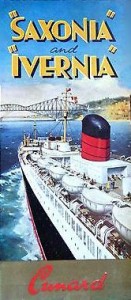 Following Caronia (1949) Cunard Line's Saxonia (1954) continued the company's direction toward smaller liners as post-war realities made grander projects less affordable and necessary.
Saxonia was launched by Lady Churchill on 17 February 1954 at John Brown and Co. in Clydebank, Scotland.
The 21,637 GRT liner was 608 feet long and 80 feet at beam. She had a rated speed of 20 knots and could carry up to 125 First Class and 800 Tourist Class passengers.
Saxonia, the second Cunarder to be so named, was the first of four Cunard liners (along with Carinthia, Ivernia, and Sylvania) designed for service between Britain and Canada. Like her sisters, Saxonia was built to operate as a hybrid passenger-cargo ship.
Small and Valuable
Smaller liners like Saxonia played an important role in ocean liner history. Such vessels provided valuable transportation to ports around the world that the superliners rarely, if ever, visited.
Yet in the 1960s, with air transportation booming, the need for small liners began declining. In 1962-63, with transatlantic liner traffic waning, Saxonia was refitted for winter cruising (including the addition of an outdoor swimming pool). Renamed Carmania, she received a Caronia-style green paint livery, sailing between the UK and Canada in the summer and touring Caribbean and Mediterranean ports in the winter.
Sold to the Soviets
In 1971 a financially-struggling Cunard Line pulled Carmania out of service. In 1973 she was acquired by the Soviet Union and renamed Leonid Sobinov (after a noted Russian actor). In 1990, after the collapse of the Soviet Union, she was registered in Malta.
The classically-styled liner spent her final years as a budget cruise ship, traveling between Mediterranean ports before heading to the breakers in 1999.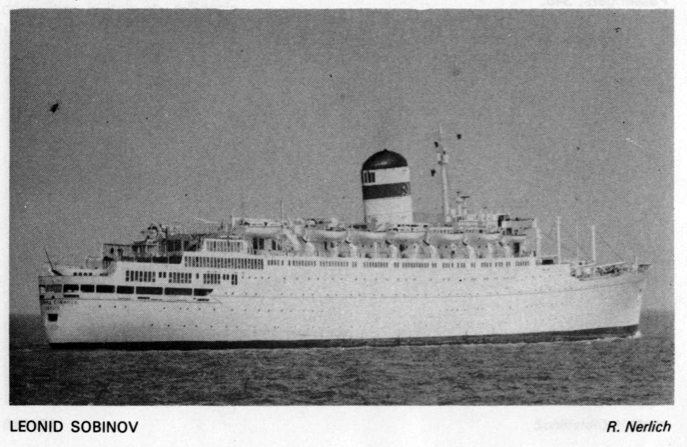 Please help keep Ocean Liners Magazine afloat. Any amount will be greatly appreciated. Think of it like tipping your history steward.
—Regards, John Edwards, Editor/Publisher.