More than seven decades after it occurred, the Normandie (1935) disaster lingers as one of the saddest moments in ocean liner history.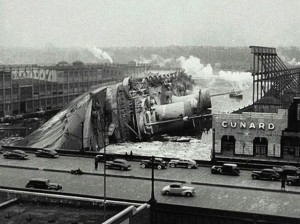 On 9 February 1942 USS Lafayette (ex-Normandie) caught fire while undergoing conversion into a troopship at a New York pier. She capsized the next morning and was declared a total loss.
The pride of Compagnie Générale Transatlantique (French Line), and perhaps the most beautiful ocean liner ever built, Normandie was renowned for her Art Deco styling, sophisticated atmosphere and impeccable service.
Normandie began her maiden voyage from Le Havre to New York on 29 May 1935, setting speed records both westbound and eastbound. Yet the beloved liner's career was cut short by the outbreak of World War II. At the end of her 139th Atlantic crossing, Normandie arrived in New York on 28 August 1939 and would never sail again. Mothballed at Pier 88, she was taken into custody by the US Coast Guard when France was occupied by Germany in June 1940.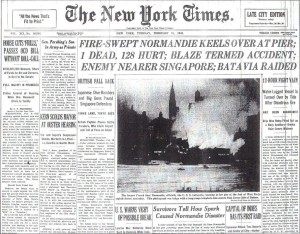 Eighteen months later, less than a week after Pearl Harbor, Normandie was taken over by the US Maritime Commission and renamed USS Lafayette. In January 1942 the US War Department took command and by 9 February the liner's conversion into a troopship was nearly complete. Yet as she was being loaded with supplies, a spark from a welder's torch ignited a pile of lifejackets. The fire spread rapidly and a series of mistakes by the ship's crew and firefighters led to the liner turning on her port side and sinking at her berth.
Refloated in September 1943, Lafayette was towed to the Brooklyn Navy Yard. Plans to convert her into an aircraft carrier were abandoned as too costly, and she remained in Brooklyn for the remainder of the war. Unwanted and unusable, she was scrapped in Newark, New Jersey, in 1946.
One of Normandie's whistles, incidentally, was rescued from a scrap heap at a steel plant in Bethlehem, Pennsylvania. The whistle was put into service at the Bethlehem Steel plant and reliably signaled shift changes and fire alarms until 1952. The whistle was later donated to a museum.. The whistle, incidentally, still works.

Please help keep Ocean Liners Magazine afloat. Any amount will be greatly appreciated. Think of it like tipping your history steward.
—Regards, John Edwards, Editor/Publisher.