Cunard Line's Lucania (1899) was launched at Fairfield Shipbuilding and Engineering Co. of Glasgow on 2 February 1893.
The 12,950-ton Lucania was 600 feet long with a beam of 65 feet. The twin-screw liner, with two masts and a pair of massive funnels, had a rated speed of 22 knots.
Lucania and her sister ship, Campania (1898), launched five months earlier, had the largest (30,000 horsepower) triple expansion engines ever installed in a Cunard vessel. Both ships were the first liners to be equipped with wireless stations.
Lucania was one of the most luxurious liners of her era. According to maritime historian Basil Greenhill, writing in his book "Merchant Steamships," the interiors of Campania and Lucania represented Victorian opulence at its peak—"an expression of a highly confident and prosperous age that would never be quite repeated on any other ship." Both liners had main dining saloons measuring 85 feet by 63 feet and were able to seat up to 400 passengers at once.
Sisterly Rivalry
Lucania and Campania quickly became friendly rivals on the North Atlantic. On 22 April 1893, Campania initiated the competition by making a speedy maiden voyage from Liverpool to New York. On the return journey she set a record-breaking mark of 5 days, 17 hours, and 27 minutes, averaging 21.07 knots, the first time any ship had averaged 21 knots per hour during an Atlantic voyage.
In May 1894, Lucania made a westward passage in 5 days, 12 hours, and 57 minutes, averaging 21.75 knots, a record-setting speed. Campania retaliated by regaining the record for a Liverpool to New York passage, covering the distance in 5 days, 9 hours, and 21 minutes.
The friendly rivalry between the two Cunarders finally ended when Lucania grasped honors for both eastward and westward passages in 1894, a title she held until the arrival of Norddeutscher Lloyd's Kaiser Wilhelm der Grosse.
On her best day's run, the speedy Lucania covered 562 nautical miles.
A Fiery End
Lucania was gutted by fire while moored to her Liverpool dock in 1909.
Cunard officials quickly decided that the cost of restoring the aging liner was too high, particularly with newer, larger vessels joining the fleet. Luciana was sold for scrap. But the old girl wasn't quite down for the count. Lucania's massive engines had survived the fire largely intact.
Mustering everything she had left for one final voyage, a burned-out and battered Lucania proudly steamed under her own power into the breaker's yard.
People cheered.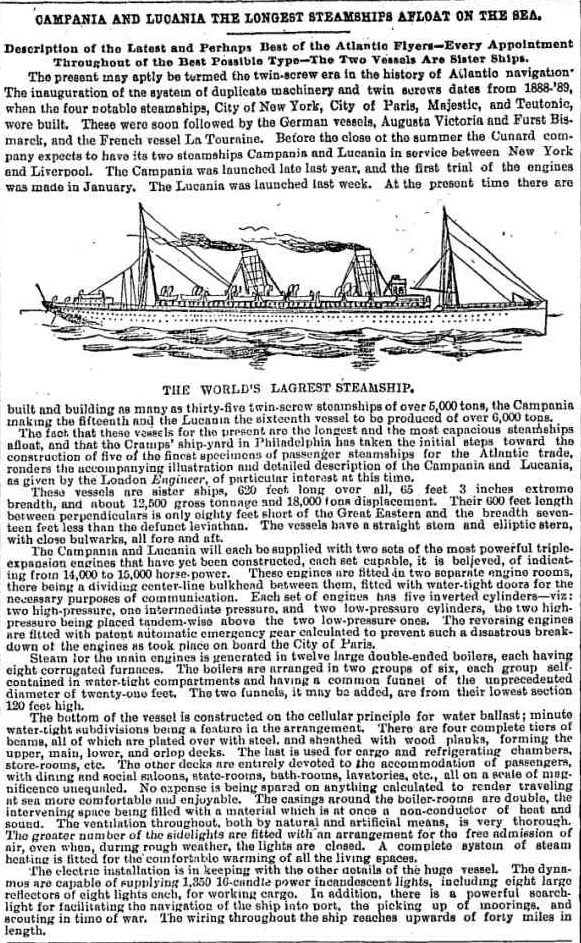 Please help keep Ocean Liners Magazine afloat. Any amount will be greatly appreciated. Think of it like tipping your history steward.
—Regards, John Edwards, Editor/Publisher.