On 29 January 1927, in thick fog about 25 miles off Fire Island, New York, Celtic (1901) was rammed by Anaconda of the American Diamond Line.
The incident resulted in Anaconda's anchor becoming lodged inside one of the two holes the ship gouged into Celtic. The White Star liner also lost approximately 20 feet of her forward port railings. Celtic was forced to dock in Boston for temporary repairs. Further details are in the newspaper clipping below.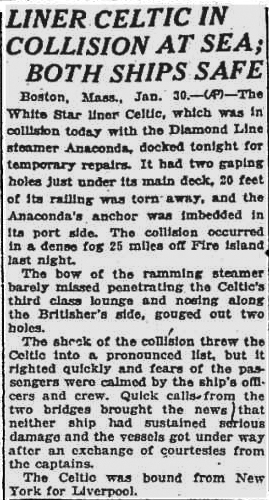 Celtic had a long history of bumping into things and having things bump into her.
In 1917, Celtic struck a mine off the Isle of Man, killing 17 people onboard. Celtic remained afloat and was brought to Belfast for repairs.
In March 1918, a torpedo fired from U-Boat UB-77 struck Celtic as she was sailing in the Irish Sea. Six people onboard were killed, but again Celtic remained afloat. The damaged vessel was towed to Liverpool and repaired again.
In 1925 while sailing in the Mersey, Celtic was accidentally rammed by Coast Line's ship Hampshire Coast. Both vessels suffered only minor damage.
In 1928, the year after the Anaconda collision, Celtic ran aground on rocks as she approached Cobh with more than 200 passengers aboard. Nobody died, but Celtic was declared a total loss. The battered liner's "bumpy" life ended when she was broken up on site.

Please help keep Ocean Liners Magazine afloat. Any amount will be greatly appreciated. —Regards, John Edwards Editor/Publisher.