Queen Mary began 1949 in a most embarrassing way.
On 1 January, Queen Mary encountered 100 kmh (62 mph) crosswinds shortly after leaving Cherbourg. The gale drove her onto a sandbank in the Bay of St Anne where she remained stuck. Capt. Harry Grattidge called the winds "a tornado which made navigation impossible."
Cunard-White Star Line officials claimed that the grounding occurred when one of the liner's anchors became fouled in steel nets and cables installed by the Germans during World War II as a harbor defense. French authorities denied the charge, inferring that the weather and, perhaps, British seamanship were responsible for the incident.
With the help of 15 tugboats, Queen Mary was refloated about 12 hours after running aground. As the silent newsreel footage above shows, hundreds of workers were needed to pour 100 tons of concrete into the ship's stern bilge where sprung rivets caused a leak. The film also shows the diver who conducted an inspection of the ship's propellers (they were undamaged).
"I would sacrifice all my good years at sea rather than live through that night again." —Capt. Harry Grattidge, in his autobiography, "Captain of the Queens."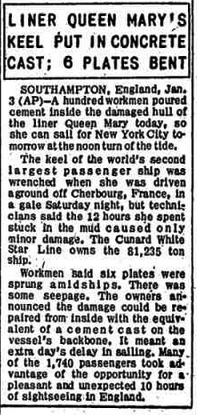 Please help keep Ocean Liners Magazine afloat. Any amount will be greatly appreciated.
—Regards, John Edwards, Editor/Publisher.