People often forget that United States (1952) and America (1939) weren't the only American transatlantic ocean liners active during the 1950s. Among others, there were also the ships of American Export Lines.
AEL's Independence began her maiden voyage on 11 February 1951 (a Mediterranean cruise). Built in Quincy, Massachusetts, by Bethlehem Steel, Independence was designed to provide service between New York and the Mediterranean. Her passengers included celebrities such as President Harry Truman, Alfred Hitchcock and Walt Disney.
On 12 April 1951, Independence began New York-Genoa service (later switched to New York-Naples). Within months, she was joined in AEL's Mediterranean service by her nearly identical sister ship, Constitution (1951). "Indy," was often overshadowed by Constitution, which appeared in several film and television shows, most notably "An Affair to Remember" with Cary Grant and Deborah Kerr, and the "Bon Voyage" episode of the American television series "I Love Lucy."
In 1959, like many smaller liners of her era, Independence was rebuilt for cruising. The ship's popularity declined over the next several years, however. In 1968 the American travel agency Fugazi chartered Independence and the liner's exterior and interior were given new, and controversial pop-art designs. A pink and orange sunburst (with Jean Harlow eyes) was painted on Indy's hull. Later that year she was laid up in Baltimore.
In 1974, Indy was acquired by C.Y. Tung (of Queen Elizabeth/Seawise University infamy) for his American Hawaii Cruises company and renamed Oceanic Independence. In 1982 the liner was again remodeled and given back her original name.
American Hawaii Cruises went bankrupt in 2001 and Independence became the property of the US government. In February 2003, Independence was acquired by Norwegian Cruise Line, which said it planned to use the ship in a new US-focused cruise service (along with United States). In 2006, Independence was renamed Oceanic. NCL sold the ship in 2007, giving up its idea of a US-oriented cruise operation. The old Indy was sold to the breakers, wrecked off of Alang, India, and subsequently looted and scrapped.
It's a sad and familiar story.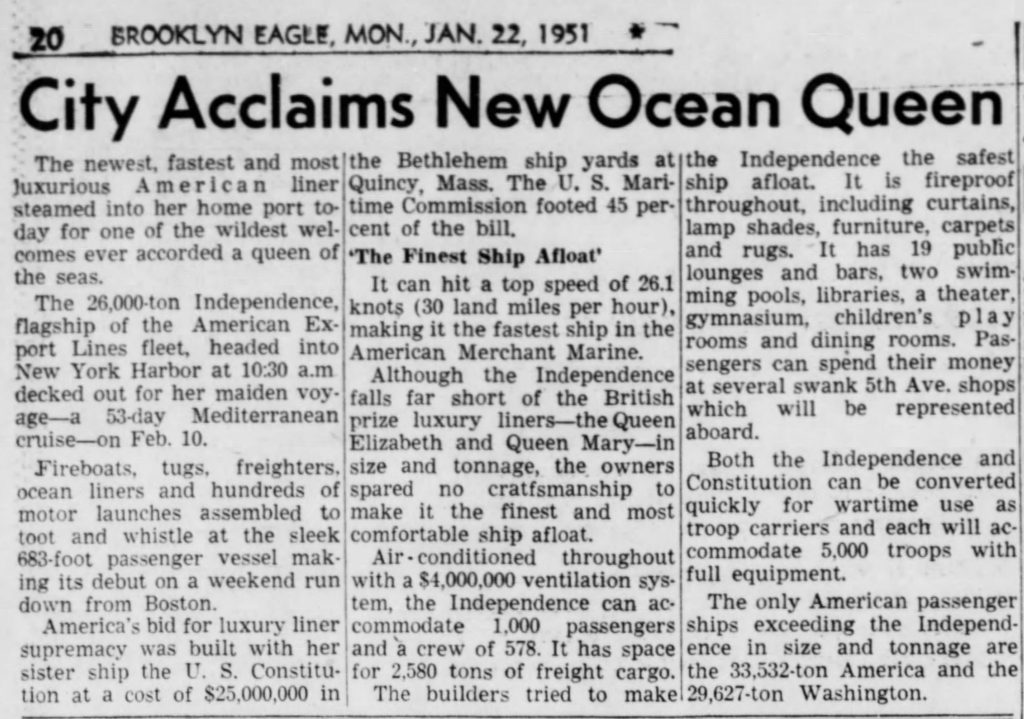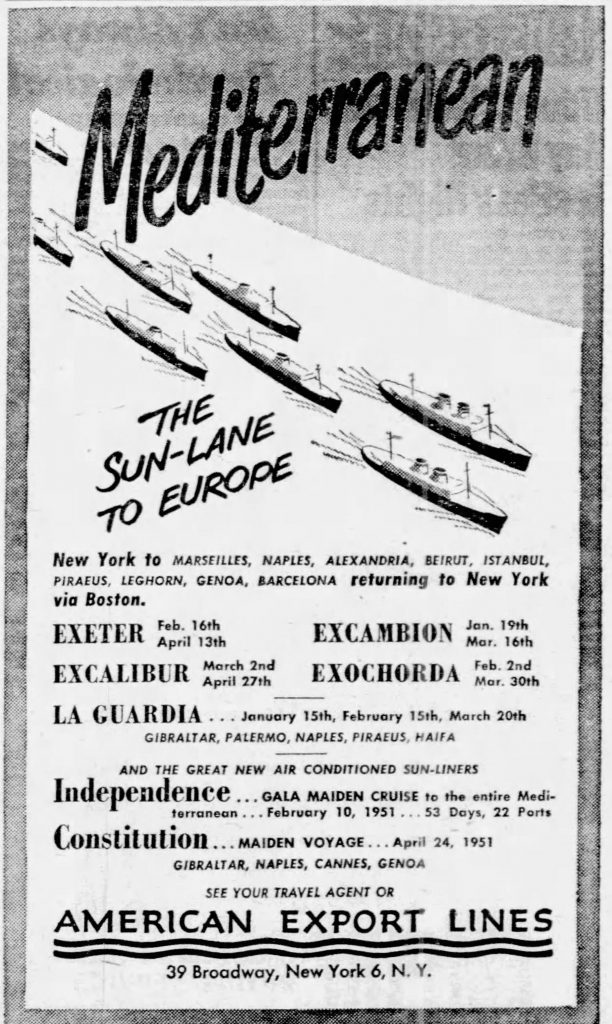 Please help keep Ocean Liners Magazine afloat. Any amount will be greatly appreciated. Think of it as tipping your history steward.
—Regards, John Edwards, Editor/Publisher.