Suevic wasn't fast or glamorous, but she was one of the many "working class" liners that quietly got the job done and performed heroically when called to duty.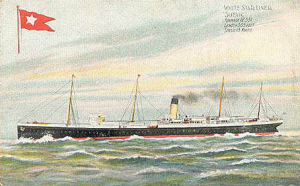 Suevic was launched on 8 December 1900 at Belfast's Harland & Wolff shipyard. Designed to complete White Star Line's Australian fleet, Suevic was 565 feet long, had a 64-foot beam, a 13.5-knot service speed, and was listed at 12.4 GRT. Suevic was the fifth and last of the "Jubilee Class" ocean liners, built specifically to service the Liverpool-Capetown-Sydney route. She could carry approximately 400 steerage passengers.
"As in the case of the other vessels of the fleet, her great width has rendered it possible to provide light and roomy cabins, with ample bath and lavatory arrangements. The dining room is capable of seating 400 persons, and there are comfortable reading and smoking rooms. The Suevic will be fitted with refrigerated capacity for 100,000 carcases of mutton, and in addition will be able to carry 20,000 bales of wool. The addition of the Suevic will bring up the total tonnage of the White Star Line engaged in the trades between Great Britain and the colonies Australia and New Zealand to 80,000 tons." — The Times, 10 Dec. 1900.
Shortly after entering service on the Liverpool-Australia run in March 1901, Suevic was requisitioned by the admiralty for service as a troopship in the Boer War.
In March 1907, while inbound for Liverpool, Suevic ran aground on Stag Rock, part of the Manacles, in a fierce storm and thick fog. The liner fired distress rockets, alerting coastal lifeboat teams. 
During the next 16 hours, 60 crewmen in four wooden lifeboats stationed around the Lizard made multiple journeys in dense fog and towering seas to bring to safety 456 men, women and children from the stricken liner. Not a single life was lost. Most of her cargo, valued at £400,000, including a large consignment of frozen lamb carcasses, was also saved.
"Was there any suggestion of a panic? None whatever. I have never seen better behaviour in my life. One must remember the cigar of Captain Jones. If anything could stop a panic it would be a man who could keep the ash on the end of his cigar in a gale and an emergency." —The West Briton, 21 March 1907.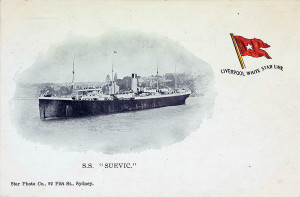 Suevic's forward holds were breached and flooded, but her aft section remained intact and dry. Rather than declare the ship a total loss, White Star decided to save the intact aft portion. In April the aft was severed from the 100-foot bow via dynamite. After being made seaworthy, the aft section proceeded under its own power, but guided by tugs, to Southampton.
By January 1908, work on a replacement bow was completed and Suevic resumed service from Liverpool to Australia.
 Except for one trooping voyage to the Dardanelles in 1915, Suevic remained in service to Australia throughout World War I. Her White Star career ended in October 1928 when she was converted into a whale processing factory ship and renamed Skytteren.
Skytteren was interned in the neutral port of Gothenburg, Sweden, in April 1940. On 1 April 1942 Skytteren, along with several other Norwegian ships, attempted to escape to British waters, but the Germans intercepted her. Skytteren was then scuttled by her crew off the coast of Sweden before she could be boarded.
A fitting and glorious end for a plucky little liner.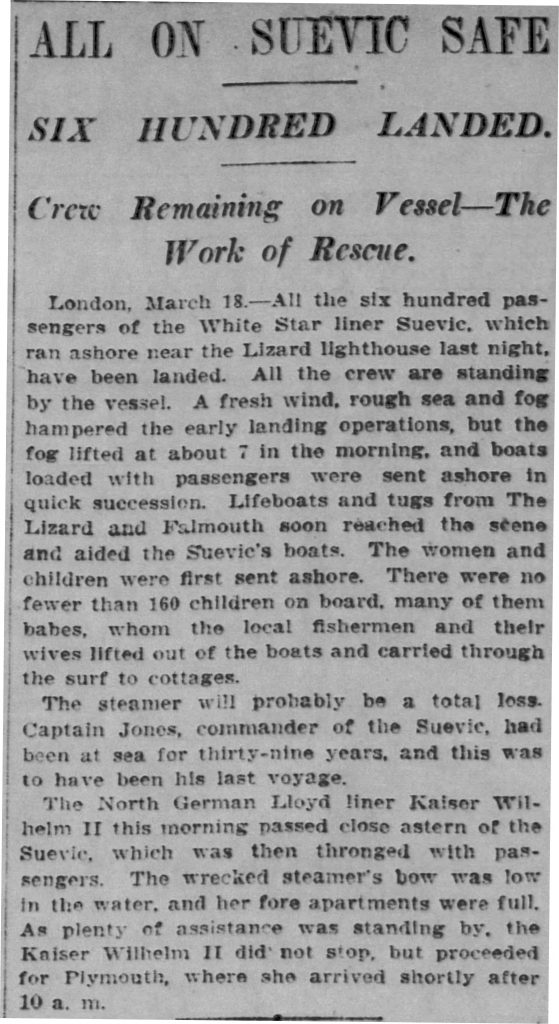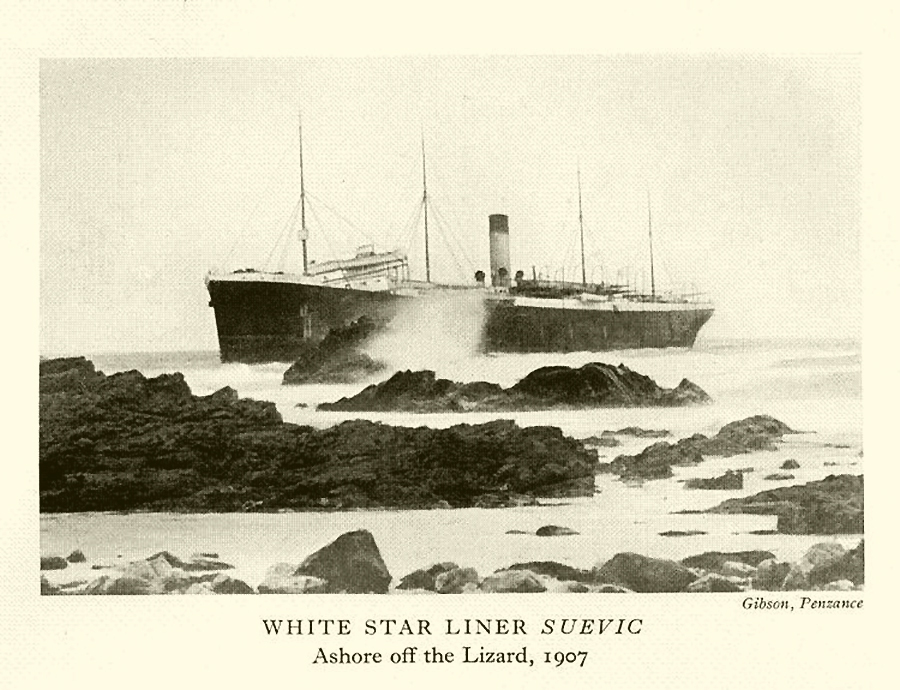 Please help keep Ocean Liners Magazine afloat. Any amount will be greatly appreciated.
—Regards, John Edwards, Editor/Publisher.