Yarmouth Castle, cruising from Miami to Nassau, caught fire and sank on 13 November 1965. The blaze, which originated in a mattress placed near an electrical switch in an overheated storage room stocked with flammable products, led to the deaths of 88 passengers and two crew members.
Yarmouth Castle was built in 1927 in Philadelphia by the William Cramp & Sons Ship and Engine Building Co. Christened Evangeline, she was 365 feet long and 5,002 GRT. At the time of the fire the ship was owned by Yarmouth Cruise Lines and registered in Panama.
Echoes of Morro Castle
The incident was eerily similar to the Morro Castle disaster of 1934. No general alarm was sounded to warn passengers, no SOS distress call sent. Yarmouth Castle's radio operator later claimed that was away from his post when the blaze broke out and that when he became aware of the danger he could not make his way back to the radio shack.
During recent renovations, outside cabin windows were carelessly painted and essentially glued shut. Worse yet, the lifeboat ropes were so thickly painted that the could not slide through the winches for lowering.
Of the ship's 13 lifeboats, only six were launched. The first lifeboat launched had 20 people in it. Of the 20, only four were passengers, none of whom were women or children. The lifeboat's other 16 consisted of the Capt. Byron Voutsinas and 15 crew members. The next two lifeboats also were full of crew.

Help Arrives
The lifeboats arrived at the freighter Finnpulp, which had been traveling eight miles ahead of Yarmouth Castle. When Finnpulp's bridge crew noticed on their radar that the cruise ship had slowed, they took a visual look and saw flames erupting from the ship.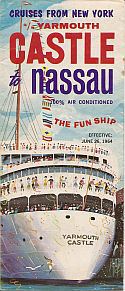 Capt. John Lehto immediately ordered his vessel turned around and headed at full speed toward Yarmouth Castle. He pulled Finnpulp alongside the stricken ship and began evacuating passengers onto his vessel. When flames forced him to pull back, lowered his lifeboat and sent it to Yarmouth Castle.
When the first of Yarmouth Castle's own lifeboats arrived with its captain, crew members and only four passengers on board, Lehto became enraged. He boarded the four passengers, but ordered Voutsinas, 35, and his crew back to their ship to assist in the rescue of her passengers. Had not two other rescue ships not arrived on the scene almost immediately, it's likely that Yarmouth Castle's survivors would have been 99 percent crew.
The Yarmouth Castle disaster led to the creation of the Safety of Life at Sea law (SOLAS) in 1966.
Video Link: Gordon Lightfoot, best known for "The Wreck of the Edmund Fitzgerald," also wrote a song about Yarmouth Castle, "The Ballad Of The Yarmouth Castle."



Did you like this article? When you buy anything through the link below, Amazon will contribute a small amount to Ocean Liners Magazine at no extra cost to you.
Shop Now