On 24 October 1918, at approximately 3 a.m., Canadian Pacific Line's Princess Sophia, bound from Skagway, Alaska, to Vancouver, British Columbia, ran aground on Vanderbilt Reef in Alaska's Inside Passage, near Juneau, during a blinding snowstorm.
Princess Sophia was a small, but tough, liner: just 245 feet long and 2,320 GRT. Built by Bow, McLachlan and Company in Paisley, Scotland, she was constructed out of steel and featured a double hull. Yet the coastal liner's durability was pushed far beyond its limits on her final voyage.
The events that followed the grounding can best be described as a slow-motion disaster. Rescue ships were unable to assist Princess Sophia due to the ongoing storm, so the stranded liner—teetering on Vanderbilt Reef—continued to be battered by wind and water for over 16 hours as her passengers and crew sat helpless.
Princess Sophia finally dislodged and sank on the night of 25 October. Of the 343 passengers and crew on board, the only living survivor found was a pet dog.
A note written by a Princess Sophia passenger:
Shipwrecked off coast of Alaska
S.S. Princess Sophia
October 24, 1918

My own dear sweetheart, 
I am writing this my dear girl while the boat is in grave danger. We struck a rock last night which threw many from their berths, women rushed out in their night attire, some were crying, some too weak to move, but the lifeboats were swung out in all readiness but owing to the storm would be madness to launch until there was no hope for the ship.

Surrounding ships were notified by wireless and in three hours the first steamer came, but cannot get near owing to the storm raging and the reef which we are on. There are now seven ships near. When the tide went down, two-thirds of the boat was high and dry. We are expecting the lights to go out at any minute, also the fires. The boat might go to pieces, for the force of the waves are terrible, making awful noises on the side of the boat, which has quite a list to port. No one is allowed to sleep, but believe me dear Dorrie it might have been much worse. Just hear there is a big steamer coming. We struck the reef in a terrible snowstorm. There is a big buoy near marking the danger but the captain was to port instead of to starboard of the buoy.

I made my will this morning, leaving everything to you, my own true love and I want you to give £100 to my dear Mother, £100 to my dear Dad, £100 to dear wee Jack, and the balance of my estate (about £300) to you, Dorrie dear. The Eagle Lodge will take care of my remains.
A second note read:
In danger at Sea.
Princess Sophia
24th October 1918.
To whom it may concern:
Should anything happen to me, notify Eagle Lodge, Dawson. My insurance, finances, and property, I leave to my wife (who was to be) Miss Dorothy Burgess, 37 Smart St., Longsight, Manchester, England.
J. Maskell
The Princess Sophia wreck was the worst maritime catastrophe in British Columbia and Alaska history. Still, not many people are aware of the Princess Sophia disaster, despite the fact that tens of thousands of cruise ship passengers sail within feet of the wreck site every spring and summer.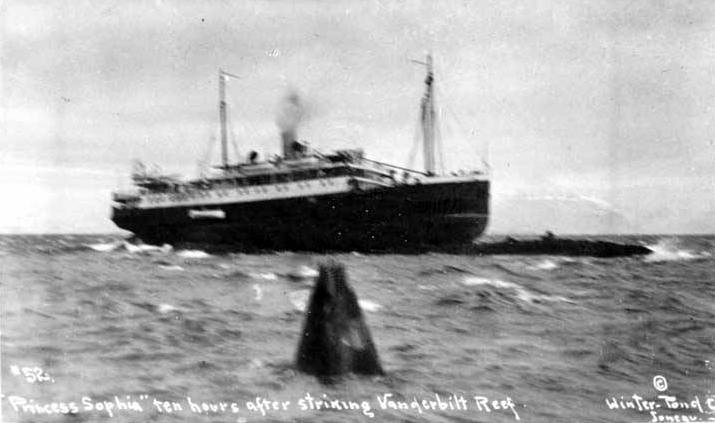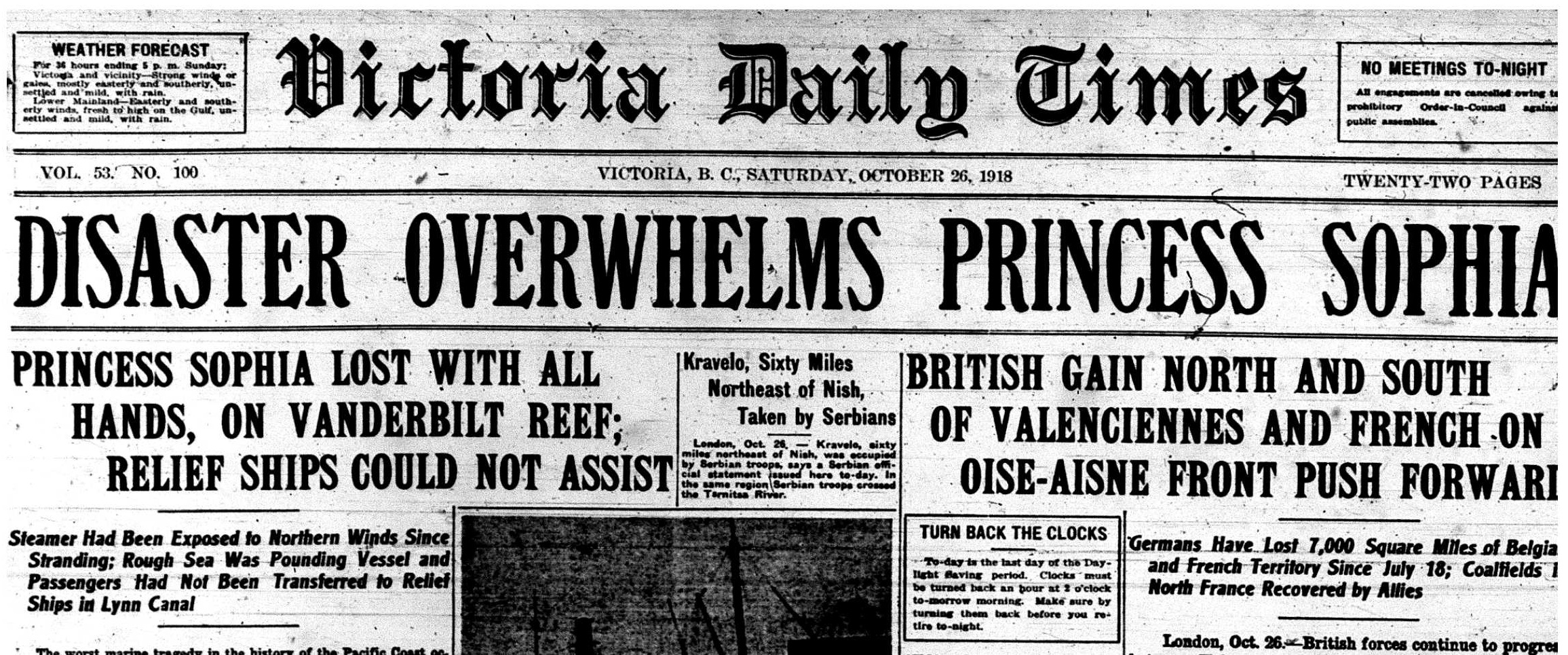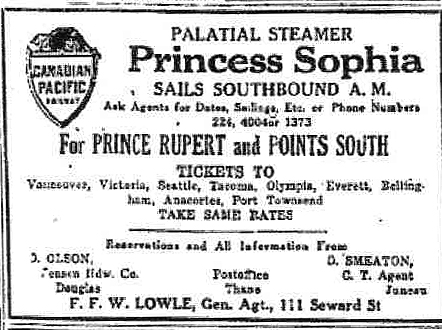 Please help keep Ocean Liners Magazine afloat. Any amount will be greatly appreciated.
—Regards, John Edwards, Editor/Publisher.