Things could have turned out very differently for Teutonic on 22 October 1913. The former White Star liner, being operated by sister company Dominion Line, was steaming in heavy fog from Montreal to Liverpool when she encountered an iceberg 172 miles east of Newfoundland.
Teutonic, launched on 19 January, 1889, was a sister ship to Majestic. The duo were White Star Line's first true modern ocean liners. The vessels were fast (for the time), sleek and stylish. The 10,000-ton Teutonic was 582 feet long and 57.7 feet at beam. She could carry up to 1,490 passengers at a service speed of 20.5 knots.
Yet none of this mattered in October 1913 as the aging Teutonic faced the most frightening moment in her nearly quarter-century-long life at sea. As a jagged outline emerged out of the mist, forecastle lookouts anxiously shouted that an iceberg was closing in straight ahead. Capt. James immediately ordered the helm hard to port and Teutonic's engines were quickly thrown into into full reverse (similar to the actions taken on Titanic's bridge on her last night). This time, luck was on the liner's side. The iceberg glided by the vessel less than 20 feet away, according to eyewitnesses. Teutonic escaped unscathed just 18 months after a similar iceberg claimed Titanic. Relieved passengers later signed a testimonial letter to Capt. James and his officers, expressing gratitude and admiration for their care and skill.
The incident wasn't Teutonic's first flirtation with disaster. In 1898, the liner collided with the transport Berlin in New York harbor. Fortunately, neither ship was seriously damaged. Then, in 1901, Teutonic was struck by a rogue wave that swept two lookouts out of her crow's nest. Both men survived.
Teutonic couldn't escape fate forever, though. In 1921, outdated and obsolete, she was scrapped in Emden, Germany. She was Teutonic till the end.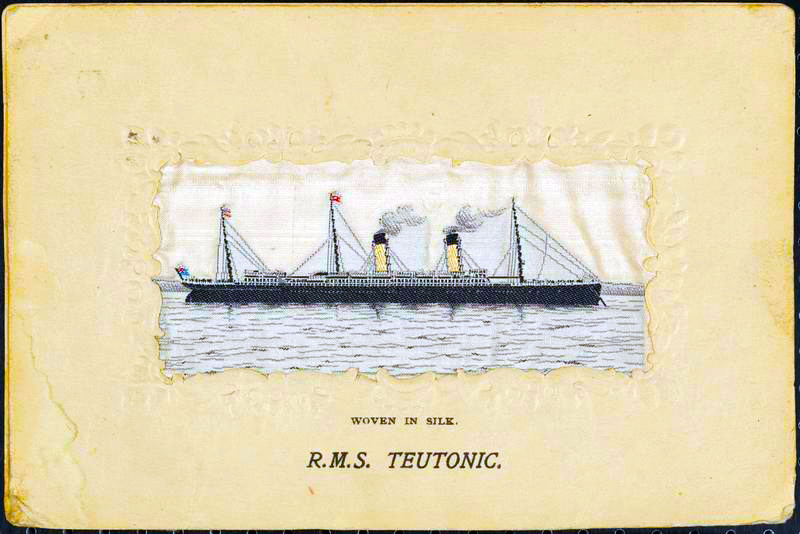 Don't leave us out in the cold! Please help keep Ocean Liners Magazine afloat. Any amount will be greatly appreciated.
—Regards, John Edwards, Editor/Publisher.