Franconia (1923) was launched on 21 October 1922 at the John Brown and Co. shipyard in Clydebank. The plucky little Cunarder, the second of three vessels to bear the name, toiled in the shadow of Mauretania (I and II), Queen Mary, Queen Elizabeth (1940) and other larger, better known liners. Yet she was loved by many and had an exemplary war record (unlike so many of her fleetmates, she survived).
The 20,175 GRT Franconia was 601.3 feet long and 73.7 feet at beam. The single-stacker liner (her predecessor had a pair of funnels) could carry up to 1,700 passengers at a service speed of 16.5 knots.
Besides serving the Liverpool-New York route, Franconia was also a pioneer cruise ship during the booming 1920s and the Depression years leading up to World War II. Her war service was remarkable, including rescuing British troops from Dunkirk (where she was damaged by German bombs). She later served as a troopship and participated in landings at Madagascar, North Africa, the Azores and Italy.
Although Sir Winston Churchill is most often associated with Queen Mary, he chose Franconia to serve as his headquarters during the critical Yalta Conference.
Post-war, Franconia brought home prisoners of war from Asia and returned American troops to the US from Europe.
After resuming civilian service for Cunard in 1949, Franconia worked steadily on the North Atlantic and Caribbean. In 1956, when she was retired and scrapped, more than a few former passengers and crew members shed a tear.
They don't build ships like Franconia anymore. That's our loss.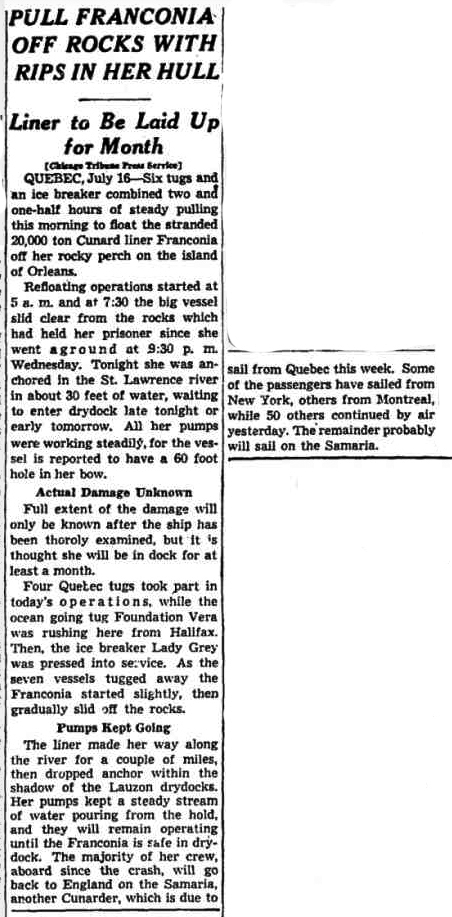 Please help keep Ocean Liners Magazine afloat. Any amount will be greatly appreciated.
—Regards, John Edwards, Editor/Publisher.