Rotterdam (1872) began her maiden voyage, Rotterdam-New York, on 15 October 1872.
The first vessel owned and operated by the Netherlands-America Steamship Company, the predecessor of Holland America Line, Rotterdam was 268 feet long and 35 feet at beam. The 1,694 GRT vessel carried 10 cabin class passengers, 60 emigrants and 600 tons of cargo on her first crossing, which was completed in 14 days and 6 hours.
Built out of iron and with two full decks, the steam-powered Rotterdam could also be rigged as a brig with 10 sails. She was launched on 6 June 1872 by Jacoba Helena Hus, the daughter of Capt. Jacob Hus, the ship's first master.
Rotterdam sailed reliably until 26 September 1883, when she ran aground on a reef near the Dutch Island of Schouwen. All 56 passengers were saved by a local shore-based lifeboat. The crew remained on board, but eventually headed to shore via a tugboat that arrived—and failed—to dislodge the ship. A second tugboat was later sent to try to pull Rotterdam off the reef. That attempt also failed.
A storm on 12 October 1883 broke the abandoned ship's back. Pounding waves over the next several years battered Rotterdam into rubble. Salvageable items from the ship were sold at a public auction held on 29 October 1883.
Divers still sometimes descend the five meters (16.4 feet) necessary to visit the Rotterdam wreck, although not much remains of the vessel that launched a major passenger line that's still alive and thriving today (although now a Carnival Corp. subsidiary).
In 1997, the sixth Holland-America Line vessel to be named Rotterdam entered the fleet. She was withdrawn from service in 2020.
The Rotterdam story doesn't end there, however. In 2021, a seventh Rotterdam is scheduled to begin service for Holland America Line, the latest in a string of vessels dating back to 1872.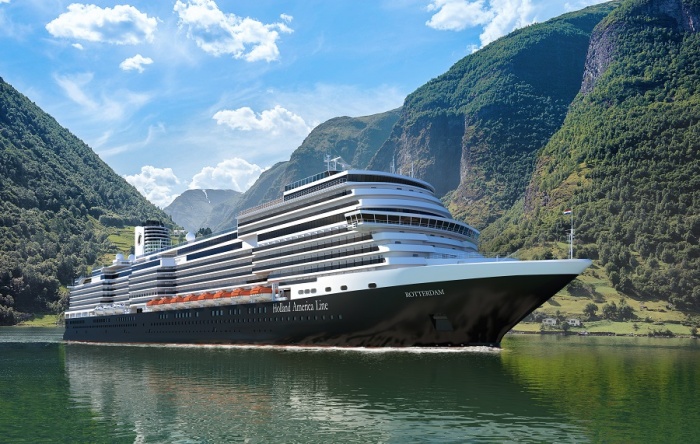 Please help keep Ocean Liners Magazine afloat. Any amount will be greatly appreciated.
—Regards, John Edwards, Editor/Publisher.