Cunard Line's Etruria was only four hours out of New York on 10 October 1903 when, at 2:30 p.m., she was struck by a rogue wave. The wave, reported to be at least 50 feet high, struck the liner on her port side. The wall of water carried away part of the line's fore bridge and smashed the guardrail stanchions.
A number of unlucky saloon passengers sitting in deck chairs close to the bridge caught the full force of the pounding wave. One passenger, a Canadian named in newspaper reports as W.W. Hall, was fatally injured. Hall, who suffered internal injuries, lingered for five days before dying onboard the liner (despite being only a few hours away from New York hospitals, the liner did not turn back). His wife, who was sitting nearby when the wave struck, suffered a fractured ankle and a dislocated hip. She was hospitalized upon arrival in Liverpool. Several other passengers were also hurt.
A letter later sent to Cunard Line officials by a saloon passenger on behalf of his fellow passengers absolved the ship's officers and crew of any blame. There was no mention in the letter of not turning back to seek medical assistance. That's the type of correspondence that makes negligence attorneys wince.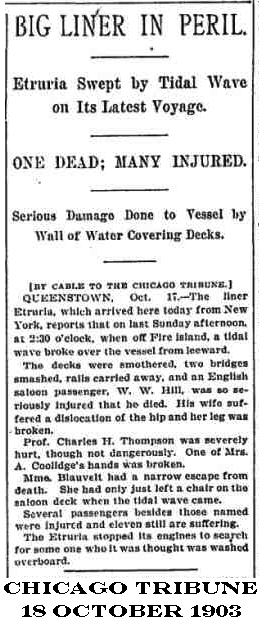 Please help keep Ocean Liners Magazine afloat. Any amount will be greatly appreciated.
—Regards, John Edwards Editor/Publisher.