On 13 September 1858, the HAPAG liner Austria (1857) burned and sank on her westbound Atlantic crossing, killing 449 passengers and crewmembers.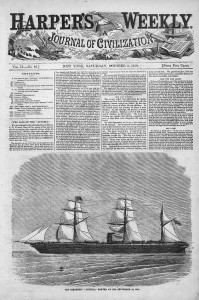 Traveling from from Hamburg to New York, carrying mostly immigrants, the steamship was only a year old and one of the newest liners in the the Hamburg American Line fleet. Built by Caird & Co. in Greenock, Scotland, Austria was 318 feet long and 40 feet at beam, featuring three masts and single screw propeller propulsion.
One of the worst transatlantic maritime disasters of the 19th century was caused by an ill-advised decision to fumigate the ship's steerage area using a red-hot chain dipped into a bucket of tar. Not surprisingly, the chain became too hot for the boatswain to hold and it fell onto the wooden deck, which quickly burst into flames.
The spreading blaze was fanned by Austria's forward speed. Yet it was impossible for the bridge crew to stop Austria's progress since the entire engine crew had already been asphyxiated by smoke and toxic gasses. When the quartermaster was forced to abandon the helm, the ship swung into the wind, which spread the flames down the entire length of the vessel. Austria's beautiful polished mahogany veneer and varnished bulkheads provided excellent fuel for the blaze. Passengers and crew soon began jumping into the sea.
A passing French barque, Maurice, rescued most of the survivors. Catarina, a Norwegian vessel, retrieved additional victims the following morning. As the blackened hulk that was the pride of the HAPAG fleet slipped under the waves, a little more than halfway across the North Atlantic, all but 65 of her passengers, and most of her crew, were dead.
About the Painting. "Sinking of the Emigrant Ship Austria on 13th September 1858," by Josf Carl Berthold Puttner (1821-1881). Vienna, 1858. Oil on canvas. Owner: Deutsches Historisches Museum, Berlin.

Did you like this article? When you buy anything through the link below, Amazon will contribute a small amount to Ocean Liners Magazine at no extra cost to you.
Shop Now