On 7 September 1966, a fire broke out in the B-Deck diesel generator room of Hanseatic (ex-Empress of Japan/Scotland) gutting the liner at her pier in New York harbor.
Hanseatic was certainly no Normandie, although she suffered a similar fate (except that in 1966 the New York Fire Department fully understood that pouring too much water on a burning ship could cause her to capsize). Still, despite the best efforts of the NYFD, Hanseatic was declared a total loss and towed back to Hamburg for scrapping.
Author's Note: I crossed the Atlantic twice on Hanseatic in 1963; she was the ship that gave me my love of ocean liners and travel. Many events shocked me in the 1960s, but none more so than the Hanseatic fire. I clearly remember my mother turning on the kitchen radio in our Queens, New York, apartment and hearing the news: "The West German liner Hanseatic is burning at her West Side pier."
Only 11 years old, I felt a chill, which soon led to horror and then, ultimately, total despair. Hanseatic! My Hanseatic! WAS ON FIRE!
Stunned and numb, I did the only thing I could do. I ran downstairs and jumped on my bike. I peddled with no particular destination in mind, but wherever I went I could glimpse a faint trail of smoke on the distant Manhattan skyline. SMOKE FROM MY SHIP! MY HANSEATIC! MY BURNING, DYING HANSEATIC! I felt powerless, hopeless.
I don't remember much else from that day, which is probably for the best.
But it still hurts.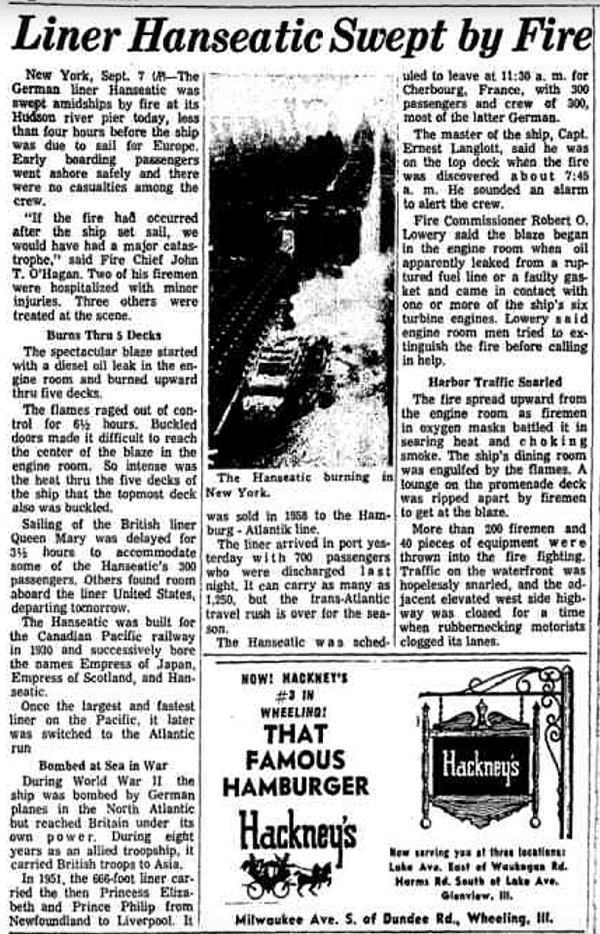 Did you like this article? When you buy anything through the link below, Amazon will contribute a small amount to Ocean Liners Magazine at no extra cost to you.
Shop Now