Renowned naval architect William Francis Gibbs died on 6 September 1967. His masterwork, United States Lines' United States, was in port in New York that day, a Wednesday.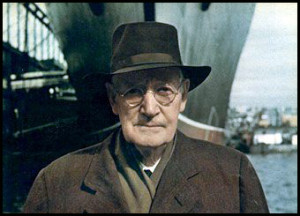 United States sailed the following day, her flag flying at half-mast as she slowly glided southward down the North River toward the Atlantic. As the great liner passed West Street her master, Commodore Leroy J. Alexanderson, stepped out onto the port flying bridge. He then quickly raised his right arm and snapped a smart salute to Gibbs' vacant office as United States' whistle sounded three deep, booming tributes to her late father.
The echo reverberated off the skyscrapers and across the harbor, slowly fading away as United States picked up speed and headed out to sea.