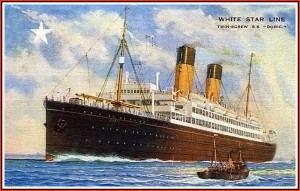 Until 5 September 1935, White Star Line's Doric (1923) led a steady, generally uneventful life as the top liner on the company's Liverpool-Quebec-Montreal service.
On that day, Doric collided with the French cargo vessel Formigny of the Chargeurs Reunis Line off Cape Finisterre, a rocky peninsula on the western coast Spain.
After emergency repairs at Vigo, Spain, Doric limped back to England where managers of a financially struggling Cunard-White Star Line, already facing surplus liner capacity, determined her damage to be irreparable. She was scrapped in November 1935 at Cashmores shipbreaker's yard in Newport, Monmouthshire, less than 12-and-a-half years after entering service.
Should you ever find yourself in Newport, drop by the St Julian's Arms on Caerleon Rd. and lift a pint to the memory of a fine White Star Liner. Then take a good look around. The establishment is decorated with oak wall paneling rescued from Doric.
Formigny, incidentally, survived the collision. In June 1944, she was scuttled at Normandy, three days after D-Day, to serve as a breakwater.

Did you like this article? When you buy anything through the link below, Amazon will contribute a small amount to Oceanliners Magazine at no extra cost to you.
Shop Now