On 2 September 1954, Cunard Line's Saxonia (1954) departed Liverpool on her maiden voyage.
Unlike her larger, faster and more famous sisters, Saxonia was never in the spotlight. She would faithfully sail between Liverpool and Montreal most of the year, then spend her winters cruising among warm-weather ports. Saxonia was the first of a new class of Cunard liners (Ivernia, Carinthia and Sylvania followed) that were designed to carry both people and cargo on Cunard's Canadian runs.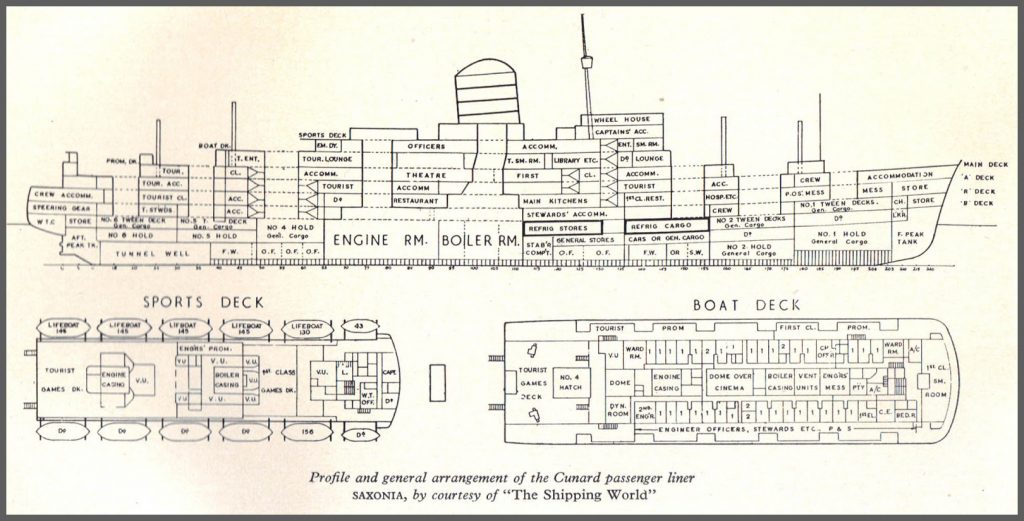 In 1962, after receiving a refit designed to improve her cruising appeal, Saxonia was renamed Carmania. She spent most of the next decade cruising year-round. Finally, with newer and more economical cruise ships joining the Cunard fleet, she was sold to a Soviet shipping company in 1973 and renamed Leonid Sobinov, in honor of an acclaimed Russian operatic tenor. We lost her to the breakers in 1999.
If superliners like Queen Mary and Queen Elizabeth were floating cities, then sturdy little ships such as those in the Saxonia class were like little floating English villages—quaint, quirky and comfortable. Liners like these simply don't exist today. Come to think of it, little English villages aren't quite what they used to be, either.

Ocean Liners Magazine runs at a significant financial loss. Please consider making a donation in the box at the upper-left corner of this page to keep the publication alive. Thank you.