Lucania and Campania were Cunard's golden duo at the turn of the last century. The pair, sleek, modern and luxurious, shunned scores of traditional (i.e. obsolete) features and customs carried over from the age of sail and firmly established Cunard as both a company and a brand. They were also the first Cunard liners equipped with Marconi wireless stations.
Both liners were built at Glasgow's Fairfield Shipbuilding and Engineering Co. Campania launched first, on 8 September 1892. Lucania followed five months later on 2 February 1893.
Campania and Lucania were engineering trendsetters. Both liners were equipped with two huge funnels, made necessary by triple expansion engines that were able to develop 30,000 indicated horsepower. On her best days' run, Lucania covered 562 nautical miles.
In an era when liners were designed with little attention to passenger comfort or entertainment, the golden duo offered an array of opulent first-class public rooms and restaurant-quality dining. The main dining saloons measured 85 feet by 63 feet and could seat up 400 passengers at once.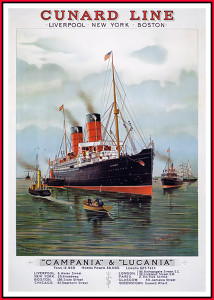 Even after they left service, Lucania and Campania would continue to inspire the design of Cunard liners of all sizes for nearly a half-century. Not until planning for Queen Elizabeth (1940) got underway would Cunard again undertake such a radical reinterpretation of ocean liner design.
Sadly, while Cunard got the styling right with both liners, the company erred on the matter of size. A new generation of larger and faster German and British four-stack superliners arriving in the first years of the 20th century would render both Lucania and Campania obsolete as top-tier Atlantic liners.
Yet while larger liners traveling faster across the Atlantic would supersede Campania and Lucania, they would never be able to displace the golden duo from their rightful places in ocean liner history.