Although nobody knew it at the time, Normandie completed her final voyage as a passenger liner on 28 August 1939.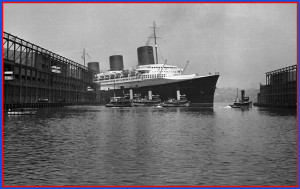 Just days before the outbreak of World War II, at the end of her 139th Atlantic crossing, Normandie arrived in New York from LeHavre and was immediately mothballed by French Line at Pier 88.
When France fell to Germany in June 1940, Normandie was taken into custody by the US Coast Guard. In December 1941, a few days after America entered World War II, Normandie was transferred to the US Maritime Commission. She was renamed USS Lafayette and prepared for conversion into a troopship. The conversion was never completed.
So lift a flute of Moët & Chandon or Pol Roger and remember Normandie for her five years of unforgettable service and those wonderful post-war voyages that never occurred.