United States Lines' Washington was launched on 20 August 1932 at the New York Shipbuilding Corp in Camden, New Jersey.
Not to be confused with George Washington (1909), a German liner operated by Norddeutscher Lloyd, United States Lines' Washington was named after the US capital, not the president.
The 24,289 GRT Washington was 705 feet long and 86 feet at beam. Parsons steam turbines drove twin screws to propel the liner at a rated speed of 20.5 knots. For most of her civilian career, Washington carried 1,130 passengers in three classes.
In 1934, Washington joined her sister ship Manhattan on a New York-Hamburg run. After the Neutrality Act effectively barred sailings to Germany, both liners switched to a New York-Naples-Genoa route in December 1939. After Italy declared war on Britain and France in June 1940, Washington and Manhattan were assigned a New York-San Francisco route via the Panama Canal.
United States Lines, rapidly running out of routes and increasingly fearful of German U-boats patrolling Eastern US waters, leased Washington on 6 June 1941 to the US Navy, which promptly refitted the liner into a troopship.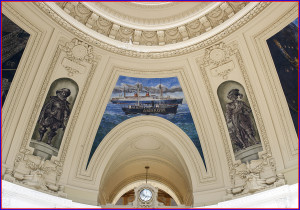 Renamed USS Mount Vernon (after President Washington's Virginia home), she often sailed in convoys with other former United States Lines fleetmates: USS Wakefied (ex-Manhattan) and USS West Point (ex-America). On a secret mission in November 1941, weeks before the US even entered the war, Mount Vernon carried British troops in a convoy to Singapore.
Mount Vernon was decommissioned in January 1946 and transferred back into civilian hands. Once again named Washington, she resumed commercial service as a no-frills single-class liner in February 1947. United States Lines returned her to the US government in October 1951 for transporting soldiers and their families between New York and Bremerhaven. Laid up in reserve in New York's Hudson River in 1953, she was scrapped in New Jersey in 1965.
Like George Washington himself, Washington found herself repeatedly pulled from civilian life to serve her country.

Did you like this article? When you buy anything through the link below, Amazon will contribute a small amount to Ocean Liners Magazine at no extra cost to you.
Shop Now