White Star Line's Arabic (1902) sank on 19 August 1915 after being torpedoed by a German U-boat—an incident eerily similar to the Lusitania attack just three months earlier.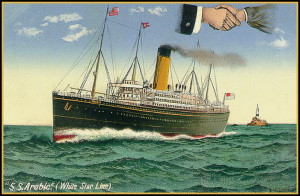 Arabic was built by Harland & Wolff for Atlantic Transport Line with the intended name of Minnewaska (the name of lakes in both New York and Minnesota). But when ATL was swallowed up in 1902 by International Mercantile Marine Co., she was transferred to sister line White Star, extensively remodeled, and renamed Arabic. Unlike many other White Star and Cunard liners, Arabic continued commercial service during World War I.
On 19 August 1915, Arabic was torpedoed without warning by U24 off the Old Head of Kinsale, Ireland. The attack occurred approximately three months after Cunard Line's much larger Lusitania met a similar fate in the same general area. Arabic sank in less than 15 minutes with the loss of 44 lives (390 survived).
Responding to US protests, the German government promised to suspend the unannounced sinking of merchant vessels. The pledge lasted until 1917, when unrestricted submarine warfare resumed (a development that directly led to the US's entry into the war).
At the war's end, Norddeutscher Lloyd's Berlin (1908), which was awarded to Britain as a war prize, was purchased by White Star. The liner was renamed Arabic in 1920, becoming the third and last White Star vessel to carry that name.

Did you like this article? When you buy anything through the link below, Amazon will contribute a small amount to Ocean Liners Magazine at no extra cost to you.
Shop Now