When Cunard Line's Lucania was fatally damaged by fire at Liverpool on 14 August 1909 it marked a sad ending for a popular liner that also happened to play a significant role in technology history. In her own way, Lucania was to wireless communication what HMS Beagle was to the natural sciences.
In June 1901, Lucania was the first Cunard liner to be equipped with a Marconi wireless telegraph station. Cunard tested and retested the equipment over the next several months before deciding to place a similar installation on Lucania's fleetmate, Campania. Shortly thereafter, the two liners made radio and maritime history by exchanging the first ice bulletin sent via wireless telegraphy.
In October 1903, wireless pioneer Guglielmo Marconi chose Lucania to conduct his latest wireless experiments. It soon became possible to maintain contact with a wireless station in either Nova Scotia or Poldhu, Cornwall, throughout an entire transatlantic voyage. The era of liners mysteriously disappearing at sea without a trace was thankfully drawing to a close.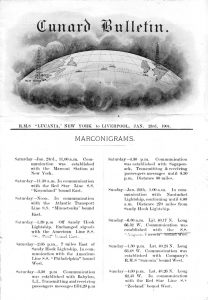 Constant radio contact also made it possible to publish an up-to-date onboard newspaper. On 10 October 1903, Lucania began publishing the Cunard Daily Bulletin. Soon, virtually all major ocean liners would begin printing their own newspapers or newssheets.
Lucania and Campania were Cunard's top transatlantic liners at around the turn of the last century. They were superseded by the arrival of a new generation of four-stack superliners from both Germany and Britain, including Cunard's own Mauretania and Lusitania.
Lucania's glory days ended on 14 August 1909 when she caught fire and partially sank at her berth. Five days later she was sold for scrap and her interior fittings put up for auction.

Did you like this article? When you buy anything through the link below, Amazon will contribute a small amount to Ocean Liners Magazine at no extra cost to you.
Shop Now