Transylvania (1926) was the second ship in Cunard Line's Anchor Line subsidiary to bear the distinctive, although unusual (at least to modern observers), name. She was built in Glasgow by Fairfield & Co. and launched on 11 March 1925.
The two-screw 16,923 GRT liner, 552.4 feet long and 70 feet at beam featured three funnels in an odd two short, one tall arrangement. She offered accommodation for 279 First Class, 344 Second Class and 800 Third Class passengers. Top speed was around 17 knots.
Only one of Transylvania's funnels was actually functional. The other two stacks served as decorations designed to make the relatively ordinary liner look mighty and important.
Despite her name, Transylvania was very much a Scots liner. Glasgow was her homeport. Transylvania sailed on her maiden voyage—Glasgow to Molville (Ireland) to New York on 12 September 1925. It's tempting to observe that screen legend Bela Lugosi was at one time a celebrity passenger onboard Transylvania, but there's no evidence to support this claim.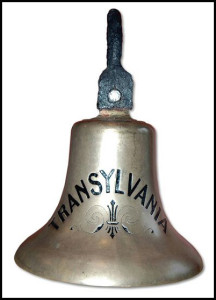 In 1935, Transylvania began running annual summer cruises to Bermuda and the Caribbean. On 18 August 1939 she began what would become her final transatlantic roundtrip, Glasgow – Molville – New York – Molville – Glasgow. On 7 September 1939, just days after the start of World War II, she was requisitioned by the Admiralty, refitted as an armed merchant cruiser, and attached to the 10th Cruiser squadron.
On 10 August 1940, Transylvania was torpedoed by U-56, about 40 miles northwest of Malin Head, County Donegal, Northern Ireland. She was the left behind because the Germans had run out of torpedoes. Although taken in tow, Transylvania sank. While 48 lives were lost in the attack, approximately 300 officers and ratings were rescued. The Transylvania wreck is currently a popular dive site.

Did you like this article? When you buy anything through the link below, Amazon will contribute a small amount to Ocean Liners Magazine at no extra cost to you.
Shop Now