On 30 July 1894, before sunrise and in dense fog off the Grand Banks, White Star Line's Majestic (1890) sliced her way clean through Antelope, a 32 ton Newfoundland fishing schooner. Six of Antelope's eight crewmen were rescued and taken to New York. Antelope was left to sink.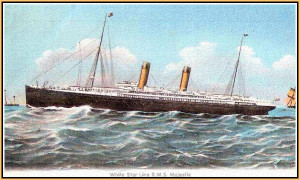 After Majestic's arrival in New York, a White Star Line representative advised the British consul that the company would pay for the obliterated vessel. It was a neat and tidy solution to a potentially messy problem. By immediately compensating Antelope's owner there would be no need for a bothersome lawsuit with its inevitable days, perhaps weeks, of negative newspaper headlines.
Anyway, even if a lawyer could have been found to file a negligence suit, one must ponder the steep odds facing a group of "Newfie" fishermen suing J.P. Morgan's mighty International Mercantile Marine trust.
As Jay Gould, another Gilded Age financier, cynically observed, "I can hire one-half of the working class to kill the other half."
Did you like this article? When you buy anything through the link below, Amazon will contribute a small amount to Ocean Liners Magazine at no extra cost to you.
Shop Now