Just three years after the Andrea Doria disaster, Cunard Line's Queen Elizabeth (1940), like the doomed Italian Line ship, was speared by another vessel in foggy weather near New York harbor.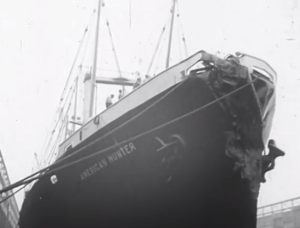 On 29 July 1959, during a dreary Wednesday afternoon, Queen Elizabeth (1940) collided with the United States Line freighter American Hunter. Fortunately, there were no injuries on either vessel.
The incident took place in near-zero visibility as the outbound Queen Elizabeth was struck by the inbound American Hunter approximately 1.5 miles off Coney Island. Queen Elizabeth received a three-foot hole in her starboard bow. The freighter suffered a crumpled bow. Both vessels were helmed by harbor pilots at the time of the incident.
E. Seymour Bell, Cunard Line general manager, told newsmen that Queen Elizabeth was steadily sounding her foghorn when "the other ship suddenly appeared out of the fog on the starboard bow."
Few of the 1,959 passengers on board Queen Elizabeth were even aware of the collision, which was felt as only a dull thud on the massive liner. Three passengers, however, decided not to risk traveling on the liner and were put ashore.
Queen Elizabeth would experience another minor collision approximately five years later. On 16 September 1964 the liner and the US Army Transport General Simon B. Buckner bumped into each other near Southampton. Both vessels only suffered a few dents and scratches.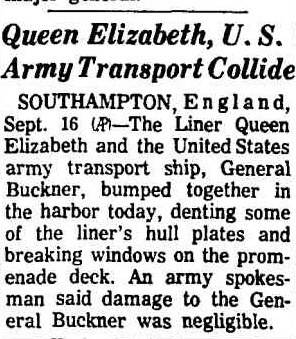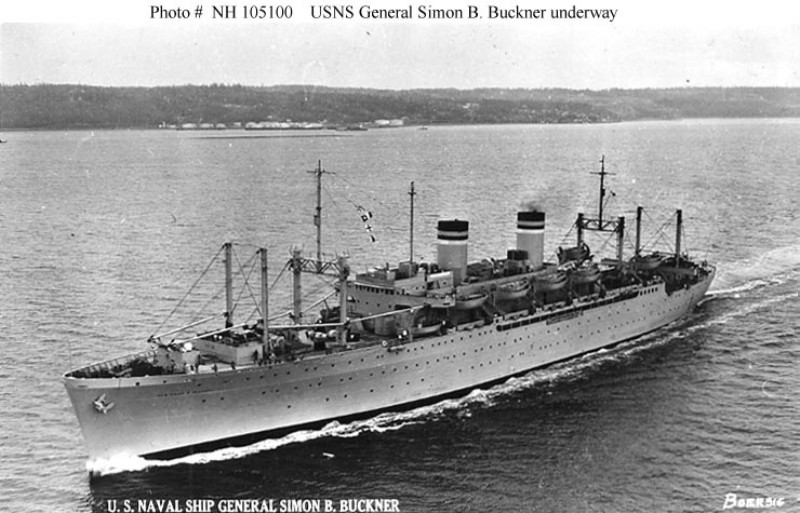 Did you like this article? When you buy anything through the link below, Amazon will contribute a small amount to Oceanliners Magazine at no extra cost to you.
Shop Now