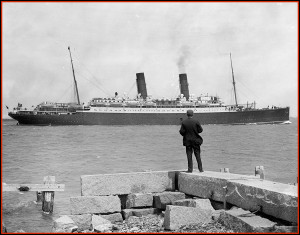 Franconia (1911) was launched on 23 July 1910 at the Swan, Hunter & Wigham Richardson shipyard in Newcastle upon Tyne, England.
The first Franconia (there have been three to date) experience a relatively brief life. She began her maiden voyage on 25 February 1911: Liverpool to New York. She was then placed on Cunard's Liverpool to Boston service, interrupted by an occasional cruise. In winter, Franconia ran a New York to Mediterranean route.
NO WAITING—Franconia was known as "the bathroom ship," since she offered more onboard bathrooms and showers then any other Cunard liner of the time, including the much larger Mauretania.
The 18,150 GRT Franconia was 625 feet long, 71 feet at beam and could accommodate up to 2,850 passengers. Her quadruple expansion steam engine drove a pair of propellers at a rated service speed of 17 knots.
In February 1915 Franconia answered her country's call and began serving as a troopship. On 4 October 1916, Franconia was torpedoed 195 nautical miles southeast of Malta by UB-47 and sank 50 minutes later. No troops were on board, but 12 crewmen out of the 314 onboard perished.
Franconia, incidentally, was named after a region in Germany. Perhaps the U-boat commander was unaware of this fact.