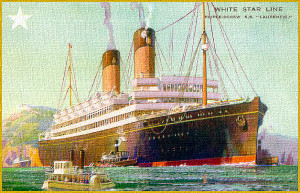 Laurentic (1928) holds a unique distinction among White Star liners (but you'll have to wait until the end of the story to find out what it is).
Laurentic was launched on 16 June 1927 at the Harland & Wolff shipyard in Belfast. She made her maiden voyage, Liverpool-Montreal, on 27 April 1928.
The twin-funnel 18,724-GRT Laurentic was 578-feet long and 75 feet at beam. With a service speed of 16 knots she could carry up to 1,500 passengers: 594 in cabin class, 406 in tourist class and 500 in third class. Laurentic was the last White Star liner to run on coal, which was used to feed a pair of quadruple expansion engines driving two side propellers and a low pressure turbine driving a central propeller. Laurentic was the second White Star liner to carry the name. Laurentic (1909) sank on 25 January 1917 after striking two mines.
To continue, click the NEXT button on the top of this page.