France (1962), the last great ocean liner for Compagnie Générale Transatlantique (French Line), was launched on 11 May 1960.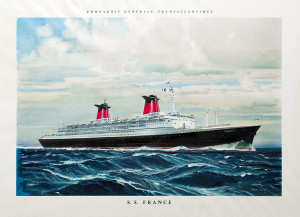 At the Chantiers de l'Atlantique shipyard in Saint-Nazaire, France was blessed by the Bishop of Nantes and christened by Madame Yvonne de Gaulle, wife of President Charles de Gaulle. The president himself declared that France would be the new Normandie. Chantiers de l'Atlantique wouldn't build another major ocean liner until Queen Mary 2, launched in March 2003.
France was the epitome of a late 20th century superliner. Measuring 1,035-feet long and 34 feet at beam, the 66,343 GRT vessel had a rated speed of 30 knots. She was powered by Parsons steam-powered turbines driving quadruple propellers. Despite her speed and power, France was never able to take the Blue Riband from United States, which in 1952 set the record for the fastest transatlantic crossing by an ocean liner.
To continue, click the NEXT button on the top of this page.