Shalom, the first and only ocean liner built for an Israeli shipping line, left on her maiden voyage, Haifa to New York, on 17 April 1964. The 25,320 GRT Shalom was 629 feet long and 81.5 feet at beam. The steam turbine liner could carry up to 1,090 passengers  (72 first class, 1,018 tourist class).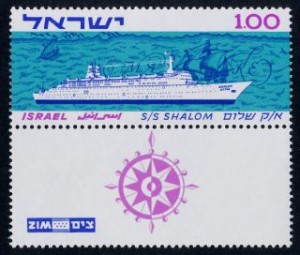 Constructed at Chantiers de l'Atlantique in St Nazaire, France, for Israel's ZIM Lines, Shalom (the Hebrew word for "peace") sailed the Haifa-New York route for only a little over a year before ZIM decided that the service was economically unfeasible. Besides low booking levels, a seemingly never-ending debate over the ship's lack of separate kitchens for Kosher and non-Kosher diners and a collision with a Norwegian tanker off the New Jersey coast in November 1964, killing 19 Stolt Dagali crew members (see newsreel footage above), helped sway ZIM's decision to get out of the passenger ocean liner business.
In 1967, Shalom was sold to German Atlantic Lines to become the second Hanseatic. The liner later became Doric for Home Lines, Royal Odyssey for Royal Cruise Line and Regent Sun for Regency Cruises.
After Regency Cruises ceased operations in late 1995, the ship was laid up until 2001. Shorty thereafter, she was sold to shipbreakers in India. In July 2001, while being towed to India under the name Sun 11, the old liner started taking in water while nearing South Africa. South African authorities forbade the ship from entering their territorial waters and, on 26 July, she sank off of Cape St. Francis.
The fiasco marked another sad end for a fondly remembered ocean liner and cruise ship.
To continue, click the NEXT button on the top of this page.