Atlantic (1871) holds the dubious distinction of being the very first White Star liner to sink.
On 1 April 1873 Atlantic (1871), en route from Liverpool to New York, ran onto rocks off the Nova Scotia coast becoming first passenger steamer sinking in White Star Line's history. The incident also marked the greatest loss of life in a single North Atlantic disaster between the years 1707 and 1912, when an even larger White Star liner sank after striking an iceberg.
Atlantic, built by Harland and Wolff, was carrying 835 passengers and 117 crew. At least 535 died.
Lifeboats lowered by the crew were smashed or washed away as the ship rolled over onto her side. Survivors were forced to swim or pull themselves along a rope to a small rock and then to a barren shore.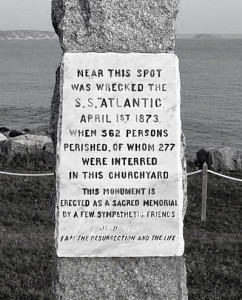 A Canadian government inquiry later found that Atlantic's officers neglected to take soundings, reduce speed, post a masthead lookout or wake the captain as they entered the unknown waters.
A memorial to the victims was later erected in Halifax at what is now the S.S. Atlantic Heritage Park in Sandy Cove, Terrence Bay. A contemporary newspaper account claimed that a body of one of Atlantic's crew members was discovered to be a woman disguised as a man.
Incidentally, the last White Star liner to sink was Laurentic (1927), which was torpedoed twice by a German U-boat on On 3 November 1940.
To continue, click the NEXT button on the top of this page.