Raffaello was la dolce vita on the high seas, a grand, glorious and excessive last party followed by sadness and disillusionment.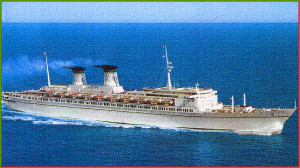 The last great Italian ocean liner, Raffaello, was launched on 24 March 1963 at the Cantieri Riuniti dell'Adriatico shipyard in Trieste, Italy.
The 45,933 GRT Raffaello was 904 feet long with a 99-foot beam. She could carry up to 1,775 passengers in three classes along with 720 officers and crew. The Italian Line vessel began her maiden voyage on 10 July 1965.
Like her sister ship, Michelangelo (launched the previous year), Raffaello was a floating projection of 1960s Italy. Think Fellini: Hyperactive parties with strobing lights. Sexy women wearing sexy makeup in sexy evening gowns. Tanned men in white dinner jackets, their bloodshot eyes hidden by sleek, dark sunglasses. A small, noisy band pumping out Volare over and over and over and over (kind of ironic, when one considers the word's meaning). A nightclub floor jammed with singers, magicians, dancers, comedians, clowns, bingo winners, stewards, organized crime figures, athletes, politicians, judges, media execs, and assorted other saints, scoundrels and not-so-plain folk.
To continue, click the NEXT button on the top of this page.