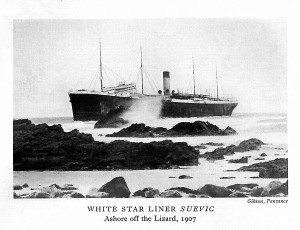 White Star Line's Suevic lost her bow in an unusual incident that began on 17 March 1907. On that unhappy St. Patrick's Day, Suevic, inbound to Liverpool, went aground in a fierce storm and thick fog off of Cornwall's Lizard peninsula.
Suevic alerted coastal observers via distress rockets. During the next 16 hours, 60 crewmen in four wooden lifeboats stationed around the Lizard made multiple journeys in dense fog and towering seas to bring to safety 456 men, women and children on board the stricken liner. Not a single life was lost.
A correspondent for The West Briton, a local newspaper, paid a glowing tribute to Capt. Thomas J. Jones, Suevic's captain. In the paper's 21 March 1907 edition he wrote: "Was there any suggestion of a panic? None whatever. I have never seen better behaviour in my life. One must remember the cigar of Captain Jones. If anything could stop a panic it would be a man who could keep the ash on the end of his cigar in a gale and an emergency."
Suevic's forward holds were breached and flooded, but her aft section remained intact and dry. Rather than declare the ship a total loss, White Star decided to save the liner's intact aft portion. In April the aft was severed from the 100-foot bow with dynamite. After being made seaworthy, the aft section proceeded under its own power, but guided by tugs, to Southampton. By January 1908, work on a replacement bow was completed and Suevic resumed service from Liverpool to Australia.
To continue, click the NEXT button on the top of this page.