Art Deco icon, Ile de France, was launched on 14 March 1926 at Chantiers de Penhoët, St. Nazaire.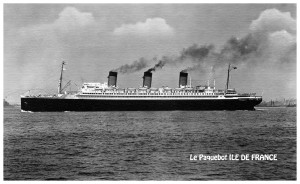 The 43,153 GRT-ship was 763 feet long with a 92 foot beam. The quadruple-screw vessel was rated at 24 knots. Ile de France featured two masts and three funnels (although she lost one, a "dummy," after the war).
Ile de France's Grand Foyer was an impressive four decks high. The liner provided accommodations for approximately 1,500 passengers and 700 crew members.
Ile de France was always a very popular ship that had little trouble elegantly transitioning from the Jazz Age to the Rock and Roll era. During World War II she served as a troopship operated by both P. & O. Line and Cunard-White Star Line. She was returned to a liberated French Line in 1947 and resumed transatlantic service in 1949 after undergoing a major refurbishment.
To continue, click the NEXT button on the top of this page.