In 1969, as Cunard Line's new Queen Elizabeth 2 was making worldwide headlines, Germany (West Germany, actually) was making its own attempt at sustaining transatlantic service.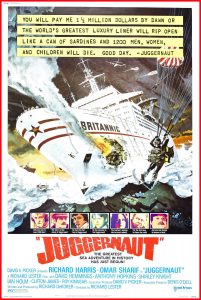 Hamburg, designed to replace Hanseatic (which burned at her pier in New York in 1966), would turn out be the last German-built ocean liner operated by a German shipping company—German Atlantic Line. She would sail in a fleet that included a second Hanseatic (formerly ZIM Line's Shalom), which the German company acquired as a fill-in for the first Hanseatic. The second Hanseatic would sail for German Atlantic Line until 1973.
Alas, unlike QE2, Hamburg was destined to  focus on year-round cruising. In 1973, German Atlantic Line tried to recapture some of the aura of the 1950s and 60s by changing Hamburg's name to that of her two predecessors, Hanseatic. When that half-hearted attempt at boosting passenger traffic failed, the liner was transferred to sister company Home Lines in September 1973 and renamed Doric, becoming a full-time cruise ship. The following year, the liner was sold to the Soviet-operated Black Sea Shipping Company, which renamed her Maxim Gorky.
In 1975, a pair of bombs planted inside the liner detonated as the vessel approached New York, causing considerable damage but failing to sink the ship, which was repaired to returned to service. After sailing for many more years for many different operators (even hosting a summit in 1989 between US President George H.W. Bush and Soviet leader Mikhail Gorbachev), the liner was scrapped in 2009.
Today, Hamburg/Hanseatic/Maxim Gorky is best remembered for serving as the centerpiece in the adventure film "Juggernaut."
Above, Hamburg makes her first film appearance—in a maiden voyage documentary.
To continue, click the NEXT button on the top of this page.