In the summer of 1883, the new Cunard liner Aurania (1882) appeared on the Liverpool to New York run.  With an innovative 8:1 length to beam ratio instead of the popular 10:1 ratio, her builders felt she'd be steadier in rough weather and easier to handle with less cargo in her holds.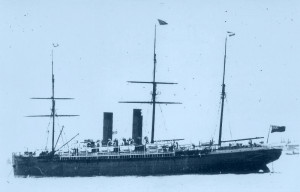 Built at the Clydebank yard of J. & G. Thomson, Clydebank, as Yard Number 187, Aurania entered the Clyde on December 26, 1882.  At 7 500 tons, 470 feet long and 57 feet wide, she was the largest ship to be launched there.  With two slender red and black-topped funnels, she was impressive.  Bark-rigged with three tall masts and a turtleback stern, she carried the largest spread of auxiliary sail of all the liners on the Atlantic.  Constructed of the highest quality steel, she had eleven watertight compartments that extended up to the boat deck.  Aurania could float with any two flooded.  Her reinforced decks allowed her to carry cannons if hostilities broke out.  An open navigation bridge, with canvas covering the rails, offered negligible shelter against the tempestuous North Atlantic.
Aurania's splendid Cabin Class accommodations housed 500 passengers in great comfort. Amidships were 158 Saloon staterooms with improved ventilation.  There were even bridal suites for newlyweds.  In the smoking room, gentlemen could enjoy cigars and conversation.  For those preferring an after-dinner stroll, there was a 250-foot long promenade deck.  Six hundred Swan electric lamps lighted the ship from stem to stern after dark.  Below decks, in steerage, wooden and canvas bunks accommodated 1 000 immigrants.
To continue, click the NEXT button on the top of this page.