How many liner passengers can lay claim to the fact they were subjected to two major collisions before reaching land? Not many, thankfully.
On 31 May 1933,  the Union-Castle liner Guildford Castle collided with the Blue Funnel Line cargo vessel Stentor near Cuxhaven, Germany. Two lives were lost in an accident that was blamed on pilot error. The next day Guildford Castle was beached and declared a total loss.
The 31 British Guildford Castle survivors then boarded the HAPAG liner New York, bound for Southampton. On the way, New York struck and sank a schooner off the Dutch coast, killing a crewman on the smaller vessel. New York only suffered slight damage, which was fortunate or the Guildford Castle survivors might have been forced to board a third ship to return home.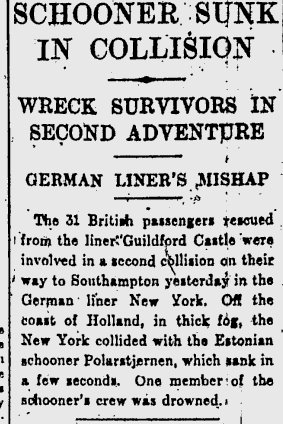 To continue, click the NEXT button on the top of this page.