Oceanic (1871), White Star Line's first passenger liner, was launched on 27 August 1870, heralding the dawn of a new era in transatlantic travel.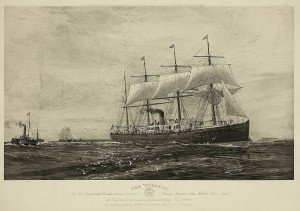 The first of scores of liners built for White Star by Belfast's Harland and Wolff shipyard, Oceanic was powered by a combination of steam and sail. The single-funnel, 3,707 GRT vessel featured four sail-bearing masts. Her iron hull was divided into eleven watertight compartments. Oceanic would faithfully sail a Liverpool-New York route for the next 20 years.
The 429-foot-long Oceanic could accommodate 166 first class "saloon" and 1,000 or so third class "steerage" passengers. Steerage accommodation was divided into two areas: single men in the bow and single women, couples and families in the stern.
On the high end, White Star was firmly focusing its attention on Cunard Line when it decided to create a stylish, modern and opulent liner. Running water was available in most of Oceanic's first class cabins, which were located amidships to mitigate the effects of movement and vibration. First class passengers could also use an electric bell to summon a steward. The first class dining room served meals in a single seating.
For those who could afford it, transatlantic travel was beginning to border on the luxurious. Her maiden voyage, however, didn't get much farther than a few miles from Liverpool.
To continue, click the NEXT button on the top of this page.