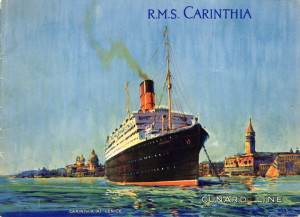 Cunard Line's Carinthia (1925) was launched at Vickers-Armstrong in Barrow-in-Furness, England on 24 February 1925. The liner was originally given the name Servia, but the company switched it to Carinthia just prior to the launch. Carinthia (1925) was the second of three Cunard liners to carry the name.
The 20,277-ton Carinthia was 600 feet long with a 73 foot beam. The twin-screw liner had a rated speed of 18 knots. She featured two masts and a single funnel.
To continue, click the NEXT button on the top of this page.