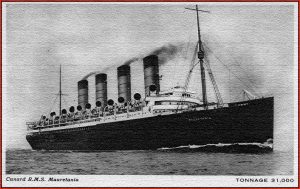 On 30 September 1909 Cunard Line's Mauretania (1907) took the Blue Riband from fellow Cunarder Lusitania, completing a westbound transatlantic crossing in 4 days, 10 hours and 51 minutes at an average speed of 26.06 knots.
Mauretania's record would hold for nearly 20 years, a remarkable achievement considering the advancements made in marine engineering during those years. Bremen finally broke Mauretania's record on 2 July 1929.
Cunard's next Blue Riband holder: Queen Mary in August 1936.

To continue, click the NEXT button on the top of this page.