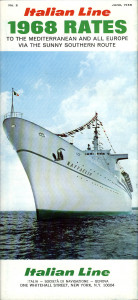 The jet set? Overrated! In the 1960s, Raffaello (or Michelangelo) was the place to be and to be seen.
Yet the party wouldn't last long.  Raffaello, like her sister, was ill suited for cruising, which became a priority service as jet travel devastated the transatlantic liner market throughout the 1960s and early 1970s. Raffaello's three-class layout made moving around the vessel confusing and inconvenient for cruise passengers. Persistent problems with the ship's air conditioning system, cramped cabins and aft vibration added to the woes.
After slightly more than a decade of service, Italian Line sold Raffaello to the Shah of Iran in 1977. The liner was damaged during the 1979 Islamic revolution. In 1983, while serving as an accommodation ship during the Iran-Iraq War, Raffaello was struck by a torpedo and partially sunk.
"La commedia ê finita."
To continue, click the NEXT button on the top of this page.
Comments
comments