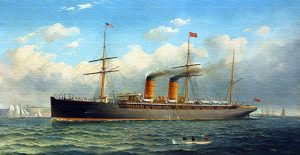 On 9 May 1903, New York police received a letter claiming that a bomb had been placed onboard Cunard Line's Umbria, which was scheduled to depart that day.
The Umbria bomb plot presents on interesting sidelight on ocean liner history and a reminder that terrorists of one sort or another have always been among us.
It was no mere threat, however. There really was a bomb lurking inside the liner.
To continue, click the NEXT button on the top of this page.
Comments
comments