The liner that never was, Britannic (1915), was launched on 26 February 1914.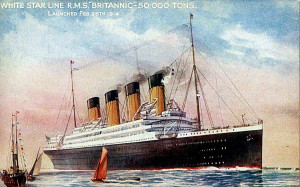 The 48,158 GRT triple-screw vessel, rated at 22 knots, featured two masts and four funnels. She was 883 feet long and 94 feet at beam.
Britannic was White Star Line's third and final Olympic-class ship, following Olympic and Titanic. Britannic was originally going to be named Gigantic, but in the wake of the Titanic disaster White Star decided to throttle down its hubris a bit. In any case, with World War I brewing and patriotic feelings running high, Britannic was deemed to be a much more appropriate moniker.
To continue, click the NEXT button on the top of this page.