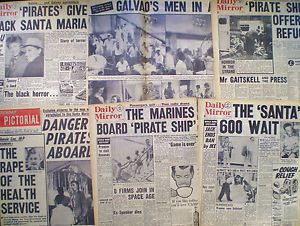 On 23 January 1961, the world learned that the Portuguese ocean liner Santa Maria of Companhia Colonial De Navegacao, with some 600 passengers onboard, had been seized in the Caribbean by a team of two-dozen hijackers. The "Dulcinea" plot was led by Henrique Galvão, an opponent of Portugal's strongman leader, Antonio de Oliveira Salazar.
The hijackers' alleged plan was to sail the ship to the island of Fernando Po in Spanish Guinea in West Africa. Upon arrival, they hoped to seize the island and to use it as a base to launch an attack on Portuguese Angola. Some say, however, that the real goal of the takeover was to attract global media attention to the dictatorships of Salazar and his Spanish counterpart, Francisco Franco.
To continue, click the NEXT button on the top of this page.