Virginian's very long history at sea began with her 22 December 1904 launch at Alexander Stephen & Sons, Ltd., Linthouse, Glasgow.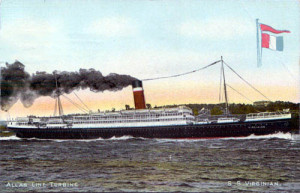 The 10,754-GRT liner, 517 feet long with a beam of 60 feet, was rated at 19 knots. She featured two masts and a single funnel.
With her fitting out completed, Virginian sailed on her maiden voyage  on 6 April 1905, Liverpool to New York, under the flag of Canada's Allan Line. The state-of-the-art triple-screw Virginian and her sister ship, Victorian, were the first transatlantic liners to be fitted with steam turbine engines.
In April 1912, Virginian was one of several vessels in wireless contact with the stricken Titanic.
To continue, click the NEXT button on the top of this page.