On 29 October 1932, at the Chantiers et Ateliers de St. Nazaire shipyard, an estimated 60,000 spectators gathered to see the launch of a legend—Normandie.
Normandie was christened by Madame Andre Lebrun, wife of Albert Lebrun, the President of the French Republic. As the 27,567-ton hull slid into the Loire, the wave washed over several hundred people. Fortunately, there were no serious injuries.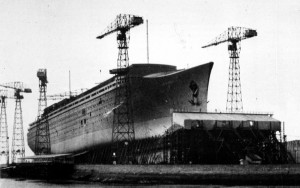 Arguably the greatest ocean liner ever, Normandie was the first liner longer than 1,000 feet (1,029 feet) and the first liner to exceed 60,000 tons (79,280 GRT and 83,423 GRT after a 1935-36 overhaul to correct a bad vibration problem).
Yet Normandie was much more than a form of ocean conveyance, she was literally a floating work of art. So much so, that shoreside architects borrowed liberally and unapologetically from her form and style.
To continue, click the NEXT button on the top of this page.
Comments
comments