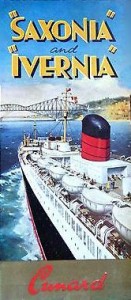 Following Caronia (1949) Cunard Line's Saxonia (1954) continued the company's direction toward smaller liners, as post-war realities made grander projects less affordable and necessary.
Saxonia was launched by Lady Churchill on 17 February 1954 at John Brown and Co. in Clydebank, Scotland.
The 21,637 GRT liner was 608 feet long and 80 feet at beam. She had a rated speed of 20 knots and could carry up to 125 First Class and 800 Tourist Class passengers.
Saxonia, the second Cunarder to be so named, was the first of four Cunard liners (along with Carinthia, Ivernia, and Sylvania) designed for service between Britain and Canada. Like her sisters, Saxonia was designed to operate as a hybrid passenger-cargo ship.
To continue, click the NEXT button on the top of this page.