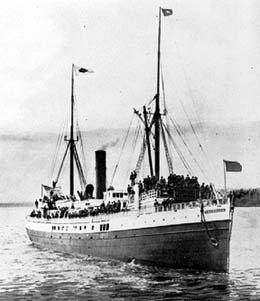 On 22 January 1906, shortly before midnight in poor weather conditions, Pacific Steamship Co.'s Valencia (1882), bound from San Francsco to Seattle, struck a reef on the southwest coast of Vancouver Island near the Canadian-US border and became trapped.
Valencia was a 1,598-ton, 252-foot, iron-hulled steamer built by Philadelphia's William Cramp and Sons shipyard. The vessel featured four watertight compartments protecting the engine and boiler rooms, but lacked a double bottom.
Valencia carried seven lifeboats with a total capacity of 181, as well as three life rafts with a capacity of 54. When the coastal steamer was inspected on 6 January 1906, all of her equipment was accounted for and judged to be in good working order.
To continue, click the NEXT button on the top of this page.