Ile de France made headlines in July1956 when she rushed to the site of the Andrea Doria-Stockholm collision, near Nantucket, Massachusetts. The liner rescued approximately 750 of the 1,706 survivors from the fatally stricken Andera Doria.
France never had a better maritime ambassador than Ile de France. Succumbing to old age and airline competition Ile de France met her end in 1960 ,serving as a prop for a Hollywood disaster movie.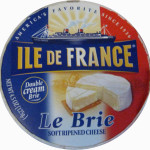 Cheese Trivia: Ile de France Brie, the first genuine brie ever exported to the United States, arrived via Ile de France in 1936 to satisfy the needs of millions of empty-cracker-holding Americans. The product remains a top seller in the US to this day, still bearing an image of the long-departed liner.
To continue, click the NEXT button on the top of this page.
Comments
comments