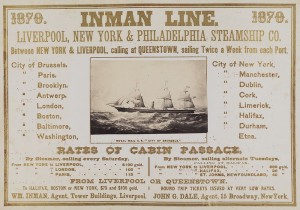 On 20 January 1870, Inman Line's City of Boston outbound from Halifax vanished at sea with 191 people on board.
In the days before radio, ships often disappeared without a trace—the vessels simply never turned up in port (in this case, Liverpool). After a while, people gave up waiting and the ship was presumed to be "lost at sea."
People speculated for years about City of Boston's fate. Some said the ship sank in a violent gale. Others thought she hit an iceberg. In 1875, after a ship carrying a hidden bomb exploded in Bremerhaven (killing 80 people), there was speculation that the same "dynamite fiend," insurance extortionist Alexander Keith, Jr., might have planted a similar explosive onboard City of Boston.
To continue, click the NEXT button on the top of this page.
Comments
comments